A Dynamic Learning Process

This programme takes place in real business situations and develops solutions to meet specific real challenges. It engages with all phases of real-time corporate university management from concept and design to the emulation of world class practice. The programme delivers a real-time corporate university project output that is implementable and adds value to the intellectual capital of the company and results in personal development that is matched to the company's needs.
Programme Cost
The fee per participant is £4650 (GBP) for the 26-week programme. This includes learning materials for all 5 modules, full assessment and feedback and the G-ACUA award.
Supporting Services & Resources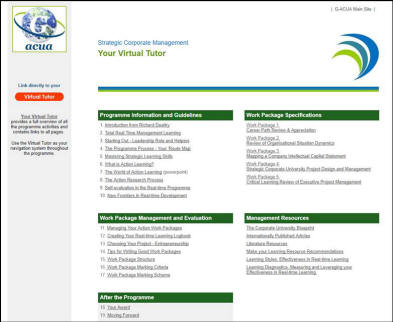 The programme supporting infrastructure includes personal learning mentoring and support for your defined workload, quality workshop resources and literature references.
Dynamic Curriculum
The curriculum is based on the key strands of real-time corporate university innovation management. The curriculum profile presents a clear articulation of events, timelines, study schedules, marking systems, communication networks, learning objectives and learning skills processes.
5 Written Work Packages Cover Core Aspects Of Real-Time Learning & Real-Time Corporate University Learning-Intensive Project Management:
Career path review and appreciation

Review of organizational situation dynamics

Mapping a company intellectual capital statement

Strategic corporate university management project

Critical review of management learning
All work packages will be assessed using a professional marking scheme, progressive feedback will be given after each work package and all work packages will contribute to the final award.
To Apply To Join The Programme
Please Complete The Application Form & Return It To Us