Achieve Special Recognition for the Performance Management of your Existing or New Corporate University or Academy

International Corporate University Certification is a statement of success to show that your corporate university development reaches a world-class professional standard in learning and organizational development.
Using an established appraisal framework, G-ACUA Certification is a seal of quality and learning leadership for your corporate university or academy.
G-ACUA Certification is a public acknowledgement of your company's commitment to further development and gives credit to the organization for the important contribution that you have made to continuing strategic development.
Gold Level
For a new corporate university development which achieves a high level structure, coverage and quality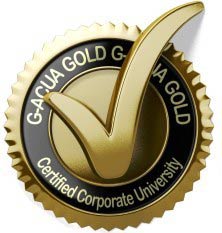 Platinum Level
For existing corporate universities with a proven record of success and impact within their organization and beyond.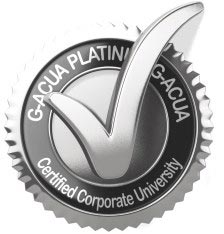 The Certification Process
Contact G-ACUA to start the registration for the certification process.
An accredited G-ACUA Auditor will review your organization's corporate university or academy using a comprehensive assessment framework to ensure that all the required standards of excellence have been met.The review framework is based on the Corporate University Blueprint, G-ACUA's flagship development toolkit.The Blueprint has been created as a Professional Management Process Review Framework. Each decision element is examined, not as a new build application, but as a means of reviewing your existing professional management of the total process.
This review will then be presented to you. If there are any issues arising, these will be discussed and steps can be taken to ensure that performance standards can be raised.
Once it has been confirmed that all aspects of the corporate university meet the standards required by a successful organization, we will present to you your G-ACUA Corporate University Certification.
The Certification lasts for two years, after which time a further review can be carried out to ensure that the Corporate University standards are maintained.
Costs
Companies applying for G-ACUA Corporate University Certification should be current Corporate Members of G-ACUA.
Further information on G-ACUA membership can be found here.
For the final G-ACUA Certification of Competence, our costs are £2000 carried out by an accredited G-ACUA Auditor. We will quote separately for the additional process cost which varies according to work intensity and company size.
In order to ensure that standards are maintained, the Certification is renewed every 2 years.
A subsequent review fee will be charged, depending on the company size.
Get In Touch To Find Out More
Richard Dealtry, G-ACUA Chairman
Contact Richard Dealtry, G-ACUA Executive Chairman, for more information and to start the process of Corporate University Certification.